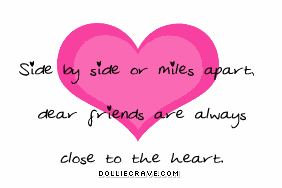 I remember you the most,
Cate
. Of all the friends that I had, you are the most special. You accepted me, flaws and all. We had such good times then!
Remember when we had our unplanned vacation in Bicol? We didn't know my Grandmother was dead then, and you were shocked that it was more like a circus (it became a clan reunion up to 3rd degree!) instead of a solemn death memorial...We were celebrating the life of my Lola (Grandma), that's why.

How we loved adventures to places unknown, and you always end up babysitting me when I start to get cranky/ bitchy/whiny if it becomes too tiring or too far. And I love you for that.

I've been selfish, too by taking you for granted every once in a while and I thank you for keeping your poker face when I blow my head ( or my life, for that matter!) over some petty thing. Remember when we had our schedule for the

Visita Iglesia

with Our Lady of Manaoag but I didn't come because I said I'm busy at home because my cousins from the province came over unannounced? But I was in Tagaytay then, with another group of friends. You went to the house with the intention of helping me out, but,

surprise of all surprises!

You actually found my cousins and my siblings picking my front lock because I wasn't there to open the door for them. You knew I lied to you, but you forgave me still...
Remember how you got crazy over that Mervin guy, and even crazier when both of you didn't work out alright? I got so angry I cried, too. And you ended up consoling me instead. We were crazy, that's why. Haha.
When I cried over MJ, you didn't ask me why, you just held my hand. You knew I was depressed (as in really depressed). You kept your mouth shut but you never left me alone.

We were always broke.

We love swimming! Remember O? He was

the one who got away

. We initially planned to have this get-together, just Mel, Che, you, and me and we ended up going in pairs! Remember the

vodka incident

? There was a glass of remaining vodka that Che put in the freezer that Mel moved to the water rack but when O woke up, he thought it was a glass of water and just realized otherwise when he wheezed so he returned the glass in the ref which

Flash

(Che's pair who didn't see what happened to O) used to gurgle with as he brushed his teeth!

You never questioned me on the men (or women) that you see me with.

Remember how we helped to tell Mel's mom that Mel is pregnant? We were dallying to tell the truth by goofing around and telling jokes and

Nanay

(Mel's mom) was already pushing us to go home as it is already late. Maybe it was our faces when we told her that we have something important to tel herl, but Nanay knew what it was without us speaking. She just turned to Mel and asked crying, "Are you pregnant?". I remember Tatay (Mel's dad) asking, "Who's the guy? I didn't know you have a boyfriend!". And I became the Maid of Honor!
I remember how you always pushed me to go on a diet, water therapy, fruit diet, and you always get crazy because it always fail! How exasperated you were! But you always laugh when I get hot-tempered on the production floor. You knew I was just hungry.
You hand me a cold towel everytime I get to drink more than I should and throw up on the floor and a hot one when I'm too sick to get up.
Remember how we start cross-stitching projects but we never finished them?
And when we were singing the videoke and someone threw a stone on the roof when we didn't stop? Haha.
That's why I miss you. I wish to see you soon. Let's the have one of the longest talks over a cup of coffee, ey?
(there are more thirteen things
here
)
(find more letters
here
)
Sept. 24:
A Letter to a Friend you'd like to get in touch with again