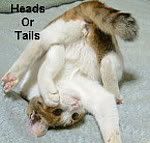 Welcome to the September 1st edition of Heads Or Tails!
- HoT Week #104 -
TAIL

S
- "Decision"
Letting go is the hardest decision of all. At least, for me. I have to break my habits and routine. I have to get out of the comfort zone that I made of the relationship. I have to make changes.

I always think with my heart and act with my head, and base all my decisions on that premise. My friends say I'm a bit slow in deciding things, but that's the way I am. I mull every scenario in my head, turn it every which way to check every option, and get a "contingency" plan, because if I really decide to do something, there's no turning back. And sometimes friends and family hate me for it, the "no-taking-it-back" attitude. I've had my share of bad decisions, hard decisions, foolish ones too. But I just take everything in stride, cry, pick myself up and move on...



When you come to a fork in the road, take it.




-- Yogi Berra


1925-, American Baseball Player



We are given one life, and the decision is our whether to wait for circumstances to make up our mind, or whether to act, and in acting, to live.




-- Omar Nelson Bradley


1893-1981, American General




Deliberate with caution, but act with decision; and yield with graciousness or oppose with firmness.




-- Charles Caleb Colton




1780-1832, British Sportsman Writer