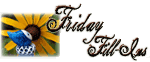 (come and fill your Fridays, too! just click the button)
And...here we go!
1. The first rule of working in an office and getting along is
be yourself.
.
2.
Sauteed
clams
in ginger is delicious!
3. When I think of carnivals I think of
carousels, balloons, and friends.
.
4.
I don't have any
favorite spring flower
because these are not native flowers here in the Philippines but I like daisies.
5. Things on my desk include
notebook, lighter, Marlboros, various state of working paper, 2 cups with half-full coffee, alcogel, kwys, keychains...need I say more?? ;)
6.
Rain
makes me wanna
cuddle and........
.
7. And as for the weekend, tonight I'm looking forward to
going to Enchanted Kingdom ( amusement park)
, tomorrow my plans include
doing the laundry
and Sunday, I want to
sleep all day
!