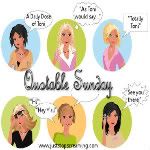 Welcome To Quotable Sunday's on
A Daily Dose
. Every Sunday myself, along with several other bloggers around the blogosphere post one or more of our favorite quotes to share with our readers.
"We must have strong minds, ready to accept facts as they are."
- Harry S Truman (1884-1972)


"Wit is educated insolence."
- Aristotle (384-322 B.C.)


"The greatest strength is gentleness."
- Iroquois Proverb


"A light heart lives long."
- William Shakespeare


"The most wasted day is that in which we have not laughed."
- Chamfort


"To love is to suffer. To avoid suffering one must not love. But then one suffers from not loving. Therefore to love is to suffer, not to love is to suffer. To suffer is to suffer. To be happy is to love. To be happy then is to suffer. But suffering makes one unhappy. Therefore, to be unhappy one must love, or love to suffer, or suffer from too much happiness. I hope you're getting this down."


- Woody Allen, Love and Death




"Once in awhile, right in the middle of an ordinary life, love gives us a fairy tale."


- anonymous quotation
~~o~~