It's Friday once again! Go over at Janet's place to check out what will other's will be doing on the weekend! Just click on the button to join!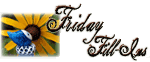 And...here we go!
1. Today I will be
listening to Kenny G all day long!
2.
You want to be happy
and I say why not?
3. What do you think of
2010 Philippine Presidential Election on May 10?
4. At
Starbucks, on the 23rd
it's free Pastry Day til 1030 Friday!
5. People say that what we're all seeking is
our life's purpose
.
6. The image I cherish most is
of a happy family
.
7. And as for the weekend, tonight I'm looking forward to
no traffic along EDSA so I can go home early
, tomorrow my plans include
going out with Teddy
and Sunday, I want to
sleep and laze around
!